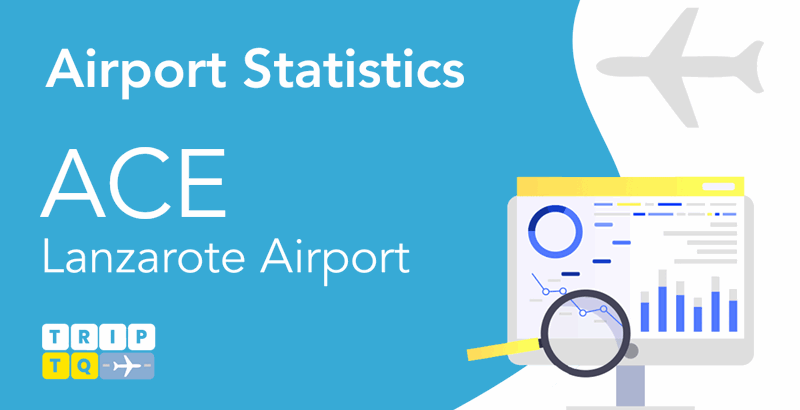 Record-breaking 5% Increase in Passengers at Lanzarote Airport Signals Remarkable Q3 Growth
Lanzarote Airport passenger numbers continued to soar in Q3 2023, surpassing pre-pandemic levels by 5.48%. Compared to the same quarter in 2019, this remarkable growth is a testament to the airport's resilience and the enduring appeal of Lanzarote as a travel destination.
Sustained Passenger Growth at Lanzarote Airport in Q3 2023
Lanzarote Airport (ACE), nestled in the lively Las Palmas, Spain, marked a noteworthy rise in passenger traffic in the third quarter of 2023. The airport saw a significant increase compared to last year, showcasing its resilience and crucial role in Spain's tourism industry amidst the global pandemic. This upward trend underscores the continued momentum in passenger activity at Lanzarote Airport.
Passenger Volume - Q3 2019 to Q3 2023
Recent statistics reveal a steady recovery in passenger numbers at Lanzarote Airport during the third quarter of 2023. The data shows a positive trend compared to the same quarter over the last four years, suggesting a gradual return to pre-pandemic levels. The third quarter of 2023 saw a 5.48% increase in passenger numbers compared to the same period in 2022, indicating a positive recovery trend.
Passenger Traffic - 2018 to 2022
A review of overall passenger statistics for Lanzarote Airport in 2022 shows a significant rebound compared to the previous four years. The data underscores the impact of the global pandemic on travel, with a sharp decline in 2020 followed by a strong recovery in subsequent years. In 2022, there was an impressive 115.18% increase in passenger numbers compared to the previous year, signaling a strong recovery and return to pre-pandemic levels.
Flight Statistics - September 2023
The flight statistics for September 2023 at Lanzarote Airport reveal interesting trends about top destinations and leading airlines. The top country destinations include Spain, the United Kingdom, Ireland, Germany, and France. Major international destinations comprise London, Dublin, Manchester, Bristol, and Derby, while popular domestic routes include Las Palmas, Tenerife, Madrid, Barcelona, and Santiago De Compostela. Leading airlines operating at Lanzarote Airport are Binter Canarias, Ryanair, CanaryFly, Jet2, and easyJet. These airlines offer diverse options for travelers across both domestic and international routes.
Are you a travel publisher and would like this information for your site/blog/publication?
Contact us on this form to request Lanzarote Airport Statistics (Statistics, data and infographics are available for a wide range of airports worldwide - please tell us your requirements using the form)
UNBEATABLE VALUE CAR RENTAL

FREE
Amendments,
FREE
Cancellations,
NO
card fees!

airport_shuttle Need Airport Transfers?
Useful Information about Lanzarote Airport