Lanzarote Airport Arrivals (ACE)
Not all flights may be showing. If not available use search above to find your flight by airline, airport or flight number.
Origin
Airline
Flight no.
Scheduled
Est./Actual
Status
Madrid (MAD)
Ryanair
FR2015
07:30
Scheduled
Las Palmas (LPA)
Binter Canarias
NT500
07:45
Scheduled
Las Palmas (LPA)
CanaryFly
PM703 expand_more(1)
07:45
Scheduled
Las Palmas (LPA)
Air Europa
UX2145
07:45
Scheduled
Tenerife (TFN)
Binter Canarias
NT402
07:50
Scheduled
Las Palmas (LPA)
Binter Canarias
NT502
08:15
Scheduled
Bilbao (BIO)
Vueling
VY3280 expand_more(1)
08:45
Scheduled
Bilbao (BIO)
Iberia
IB5281
08:45
Scheduled
Las Palmas (LPA)
Binter Canarias
NT508
09:00
Scheduled
Tenerife (TFN)
Binter Canarias
NT406
09:10
Scheduled
Bergamo (BGY)
Ryanair
FR4001
09:35
Scheduled
Dusseldorf (DUS)
Condor
DE1420
09:45
Scheduled
Paris (ORY)
Vueling
VY3187 expand_more(1)
09:55
Scheduled
Paris (ORY)
Iberia
IB5247
09:55
Scheduled
Bristol (BRS)
easyJet
U22733
10:05
Scheduled
Eindhoven (EIN)
Transavia
HV6357
10:10
Scheduled
Las Palmas (LPA)
Binter Canarias
NT516
10:15
Scheduled
Madrid (MAD)
Iberia Express
IB3852 expand_more(2)
10:30
Scheduled
Madrid (MAD)
American Airlines
AA8804
10:30
Scheduled
Madrid (MAD)
Vueling
VY5427
10:30
Scheduled
Mulhouse basel (BSL)
easyJet
U21027
10:45
Scheduled
No flight arrivals were found at Lanzarote Airport.
Flight Arrivals at Lanzarote Airport
Lanzarote Airport is an important gateway to the Canary Islands, in particular Lanzarote Island, and serves over 4.9 million passengers per year. Known by its official airport code of ACE, or as the Guasimeta Airport, Lanzarote plays a major role in tourism, and is the perfect arrival point for both local and international visitors. The airport is strategically positioned along the south-eastern shoreline of the island, and nearby many prominent areas. Passengers on Lanzarote Airport arrival flights will find the terminal buildings to be well equipped with all essential amenities, and a number of transport options available.
Lanzarote Airport consists of two terminal buildings and one runway, and is served by a variety of airline companies. One of the main airline companies present at the airport is Ryanair, a popular low-cost carrier at many European airports. Ryanair is voted as the "world's favourite airline", and has boosted traffic at small airports around the world with lower cost flight services. The phenomenon of low-cost traffic "took-off" around the year 2000, and today a number of airline carriers offer more affordable ways to fly. Recently, Ryanair announced that three of the Canary Islands would be a base for their operations, and this would include Lanzarote Airport. Two new aircraft are dedicated to each airport, and a total of 35 new routes would be implemented. Ryanair now serves 112 routes to the Canary Islands, and is expecting to deliver 4.5 million passengers per annum. Passengers can now arrive at Lanzarote Airport on Ryanair flights from Eindhoven, Knock and Leeds/Bradford, which are some of the new routes available.
From the Spanish mainland, flights are offered to Lanzarote Airport by Air Europa and Vueling, while the main airline carrier with flights to and from the other Canary Islands is Binter Canarias. The other islands are Fuerteventura, just south of Lanzarote, Tenerife and Gran Canaria, two of the larger Canaries, and La Gomera, La Palma and El Hierro, however, Gran Canaria, Tenerife and Fuerteventura are the main destinations for flights from Lanzarote Airport. Thomson Airways offers flights to Lanzarote Airport from the London Airports of Gatwick, Stansted and Luton, Manchester, Glasgow-International, Dublin and Birmingham, while other airline carriers arriving at Lanzarote include Thomas Cook Airline, Air Berlin, Travel Service, Easyjet, Aer Lingus and Arkefly.
The two terminal buildings at this airport are referred to as Terminal 1 and Terminal 2, with Terminal 2 as the smaller construction, handling only flights to the other Canaries. This terminal has been built over the original airport building, and features a wonderful mural created by César Manrique, which was present in the old building as well. Terminal 2 is modern as well as functional, and all areas are well designed to ensure the smooth flow of passengers. In the arrivals area, there is a baggage reclaim carousel, a lost property office, a cafeteria, a multi-shop and several Lanzarote Airport car rental companies. Renting a car is the best way to move around the island, and to explore all the lovely beaches and attractions Lanzarote has to offer. The rented vehicles of the car hire companies are found in the nearby parking areas of the terminals.
Terminal 1 is the airport's main terminal, and handles all international arrivals and the majority of domestic arrivals. It has a large baggage reclaim area with six standard reclaim carousels and another one for special baggage. The public arrivals area features a Medas cafeteria, cash machines, tour operator offices and an office of the Lanzarote island council, from where all tourist information is provided. Car hire companies can also be found in Terminal 1.
Passengers who will be driving in Lanzarote will find that the island has an excellent road network, with the main LZ-2 motorway providing direct access from the airport to a number of important areas nearby, including the island's capital city, Arrecife, and Playa Blanca, located to the far south of Lanzarote. Nearby the airport is Las Playas, accessed by the LZ-40, or Carretera Las Playas, San Bartolome, just inland along the LZ-20 and Costa Teguise, found on the northern side of Arrecife. The LZ-1 and LZ-10 motorways reach areas to the far north of the island. Arriving passengers can also travel by bus or taxi from Lanzarote Airport. The Circle Line 22 and 23 buses provide frequent transport to all nearby areas, including Arrecife, and taxis are found in the taxi ranks outside the airport's arrival areas.
Lanzarote Airport is also fully accessible for disabled passengers, with suitable toilet areas, lifts and pavement ramps, and various meeting points in all areas of the terminals. Disabled passengers may request further assistance at the airport from their airline company, or from staff at Lanzarote Airport. Help will then be provided with the arrival procedures. Passengers in wheelchairs can use public buses from the airport, and special taxis can also be provided. Further information regarding Lanzarote Airport arrivals is available at 902 404 704, or (+34) 91 321 10 00.
Was your flight delayed or cancelled?
You may be eligible to receive up to 600 EUR compensation per person in your party..
Claim Now!
Beat the Queues
Don't stand sweating for 45 mins waiting for Security. Get a fast track and get through in 5 mins or less.
Book now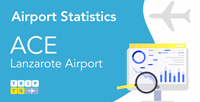 Unprecedented Growth in Q3 2023 at Lanzarote Airport: A Noteworthy 5.48% Increase in Passenger Traffic Compared to Q3 2021's Remarkable 93.23% Rise