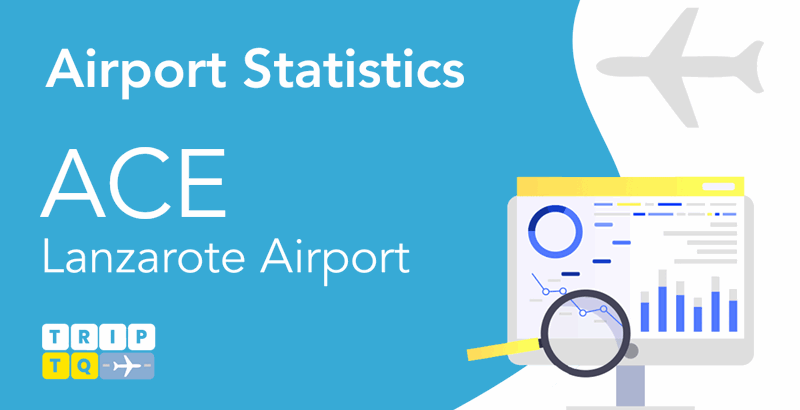 Lanzarote Airport Passenger Volume Sees 10% Increase in September 2023
In September 2023, Lanzarote Airport in the Canary Islands, Spain, experienced a 9.54% growth in passenger numbers, reaching a total of 668,707 compared to the 610,473 passengers recorded in September 2019. This surge in travel activity comes after a decline caused by the global pandemic, which severely impacted the aviation industry with dwindling passenger traffic. However, as the effects of the pandemic have diminished and travel restrictions have been lifted, many airports are now witnessing a gradual recovery in passenger numbers.
Although several airports are facing challenges when regaining pre-pandemic passenger levels, such as staffing shortages, disruptions in the supply chain, and rising costs, there are also airports embracing innovative approaches to overcome these obstacles and enhance the overall passenger experience. This focus on improvement is crucial as the aviation industry continuously adapts and evolves to meet travelers' changing needs and expectations.
Tourism Opportunities
One of the key factors driving this impressive recovery is the tourism opportunities available on the island. Lanzarote boasts many attractions, including stunning beaches, volcanic landscapes, and charming villages. The surge in travel demand after the pandemic has increased passenger traffic at Lanzarote Airport as visitors flock to explore the island's natural beauty and cultural heritage.
Availability of Various Accommodations
Furthermore, the availability of various accommodations has played a crucial role in attracting more visitors and driving increased passenger traffic. From budget-friendly hostels to luxury hotels, Lanzarote offers something for every traveler's taste and budget. This wide range of accommodations ensures that tourists of all backgrounds can find suitable places to stay, making Lanzarote a more accessible destination for travelers.
Effective Marketing and Promotional Campaigns
Effective marketing and promotional campaigns have also contributed significantly to the recovery of Lanzarote Airport. The airport authority has implemented strategies to raise awareness of the island and its attractions, promoting Lanzarote as a must-visit destination. These campaigns have attracted new visitors and encouraged previous visitors to return, further contributing to the increased passenger traffic at the airport.
Effective Airport Management
Lanzarote Airport, managed by Aena, a Spanish state-owned company responsible for overseeing all public airports in Spain, has demonstrated exceptional effectiveness in its management approach. Aena's track record speaks for itself, showcasing its ability to manage airports efficiently. During the challenging times of the pandemic, it implemented various measures at the airport to reduce costs and improve operational efficiency.
These measures encompassed staff reduction, rent negotiations with tenants, and streamlining of operations. Its effective management of the airport has played a pivotal role in the remarkable recovery it has experienced. Furthermore, Aena invested in state-of-the-art technologies and infrastructure enhancements to elevate the passenger experience at the airport. These investments included the introduction of self-service check-in kiosks, automated baggage handling systems, and a brand-new terminal building.
Strong Economic Growth in Lanzarote
Lanzarote, situated in the Canary Islands, stands out as one of the most prosperous islands in the region. The foundation of its economy rests on tourism, agriculture, and fishing. Lanzarote's economy has witnessed robust growth in recent years, driven by increased tourist spending and significant investments in new businesses. This economic boom has consequently fueled a surge in air travel demand, benefitting Lanzarote Airport with a substantial increase in passenger traffic.
Government Support for the Aviation Industry
Acknowledging the impact of the pandemic on the aviation industry, the Spanish government has stepped in to provide extensive support. These support measures encompassed financial assistance, tax breaks, and regulatory relief. With this crucial support, Lanzarote Airport successfully weathered the pandemic storm, emerging stronger.
Despite facing unprecedented challenges, Lanzarote Airport's impressive resurgence underscores the industry's resilience and adaptability. Its remarkable recovery during the pandemic highlights the aviation industry's unwavering resilience and adaptability, offering valuable lessons to airports worldwide in the post-pandemic era. Key factors contributing to the airport's success include effective airport management and other proactive measures.
Furthermore, the surge in air travel demand can be attributed to the region's strong economic growth, particularly as a popular tourist destination. Increased spending and investments in new businesses have fueled this growth. Moreover, the aviation industry has received substantial financial assistance, tax breaks, and regulatory relief from the Spanish government, significantly strengthening the industry and ensuring its long-term sustainability.
UNBEATABLE VALUE CAR RENTAL

FREE
Amendments,
FREE
Cancellations,
NO
card fees!

airport_shuttle Need Airport Transfers?
Useful Information about Lanzarote Airport