Lanzarote Airport Departures (ACE)
Not all flights may be showing. If not available use search above to find your flight by airline, airport or flight number.
Destination
Airline
Flight no.
Scheduled
Est./Actual
Status
Barcelona (BCN)
Vueling
VY2472 expand_more(2)
07:00
Scheduled
Barcelona (BCN)
Iberia
IB5185
07:00
Scheduled
Barcelona (BCN)
Qatar Airways
QR3500
07:00
Scheduled
Gran Canaria (LPA)
Binter Canarias
NT501
07:00
Scheduled
Madrid (MAD)
Iberia Express
IB3859 expand_more(4)
07:00
Scheduled
Madrid (MAD)
American Airlines
AA8602
07:00
Scheduled
Madrid (MAD)
Cathay Pacific
CX1822
07:00
Scheduled
Madrid (MAD)
Qatar Airways
QR7249
07:00
Scheduled
Madrid (MAD)
Vueling
VY5434
07:00
Scheduled
Tenerife (TFN)
Binter Canarias
NT401 expand_more(1)
07:00
Scheduled
Tenerife (TFN)
Iberia
IB125
07:00
Scheduled
Edinburgh (EDI)
Ryanair
FR5594
07:10
Scheduled
Liverpool (LPL)
Ryanair
FR6575
07:15
Scheduled
Bremen (BRE)
Ryanair
FR9460
07:20
Scheduled
Madrid (MAD)
Ryanair
FR2016
08:05
Scheduled
Gran Canaria (LPA)
Binter Canarias
NT503
08:15
Scheduled
Gran Canaria (LPA)
CanaryFly
PM704 expand_more(1)
08:15
Scheduled
Gran Canaria (LPA)
Air Europa
UX2146
08:15
Scheduled
Tenerife (TFN)
Binter Canarias
NT407
08:25
Scheduled
Gran Canaria (LPA)
Binter Canarias
NT505
08:45
Scheduled
Bilbao (BIO)
Vueling
VY3281 expand_more(1)
09:20
Scheduled
Bilbao (BIO)
Iberia
IB5282
09:20
Scheduled
Gran Canaria (LPA)
Binter Canarias
NT509 expand_more(1)
09:30
Scheduled
Gran Canaria (LPA)
Iberia
IB93
09:30
Scheduled
Tenerife (TFS)
Binter Canarias
NT781
09:40
Scheduled
Milan (BGY)
Ryanair
FR4000
10:25
Scheduled
Paris (ORY)
Vueling
VY3188 expand_more(1)
10:35
Scheduled
Paris (ORY)
Iberia
IB5248
10:35
Scheduled
No flight departures were found at Lanzarote Airport.
Flight Departures at Lanzarote Airport
Lanzarote Airport handled almost 7.5 million passengers in 2018, and is therefore one of the larger airports serving the Canary Isle. The airport is found on the island of Lanzarote, which is the furthest north-east of all the Canaries, and has the official airport code of ACE. Lanzarote Airport can also be referred to as the Guasimeta Airport, due to its close proximity with this area on the island. Other areas nearby include Playa Honda, Las Playas, Playa del Cable and Puerto del Carmen, as well as Costa Teguise, and many of these areas are popular among tourists. The airport is also only five kilometres from Arrecife, the capital of Lanzarote. Passengers on Lanzarote Airport departures will find all the facilities they require, and a wide choice of airline companies and destinations.
Passengers departing from Lanzarote Airport can use a bus to reach the airport, a taxi or their own vehicle, as the airport offers a number of transport options. The major road leading to the airport is the LZ-2 motorway, or the Carretera de Arrecife a Yaiza. This road leads directly from Arrecife to the airport, and also continues towards the south of the island to Playa Blanca. The airport is also easily accessed from the north and west of the island, by a number of prominent motorways, and passengers will find adequate parking for vehicles at Lanzarote Airport. Buses provide public transport, as there are no train services on the island, and there are two bus routes known as the Circle Line 22 and Circle Line 23 available. Passengers can travel by bus to the airport from Arrecife, and from most other nearby locations. Taxis are available from all corners of Lanzarote.
Lanzarote Airport consists of two terminal buildings, each handling departure flights from a variety of airline companies. The buildings are referred to as Terminal 1 and Terminal 2, and both can be considered as fairly new constructions. Terminal 1 was recently built as a larger passenger building was needed for the increasing number of passengers making use of the airport, and now offers a capacity of six million per annum. It is a two-level terminal, with all departure procedures handled on the first floor, and arrival processes on the ground floor. The terminal has a total of 43 check-in desks, and twelve boarding gates. In the check-in area there is also a chemist, an airport information service desk and a lottery shop.
Terminal 2 of Lanzarote Airport has been designed over the old airport terminal, and is used for all inter-island passenger traffic. The old terminal featured a very special mural created by César Manrique, and with the new construction, the mural was carefully preserved and integrated into the design of the terminal. The departures hall of Terminal 2 has ticket sales offices, six check-in desks and an automatic Binter machine, as the terminal is used by Binter Canarias, for all flights to and from Tenerife, Gran Canaria, Fuerteventura, La Gomera, La Palma and El Hierro, the other six Canary Islands. There are also five boarding gates for the terminal, a multi-shop, cafeteria and an Aena Information point.
Another interesting feature of Lanzarote Airport is the Aviation Museum, which was put together in response to the interest of both tourists and local people. The museum provides some fascinating facts in regards to the island's aviation heritage, with a number of audio visual presentations. The Aviation Museum at Lanzarote Airport is open from 10:00 to 14:00, every day, except on Mondays, and tours can also be given if there is sufficient interest. Further facilities within Lanzarote Airport for departing passengers include ATMs by various banks, a VIP lounge, first aid facilities and large shopping areas with an array of retail outlets, as well as the restaurants of Burger King, Henry J. Beans, Pizza Hut, Upper Crust and Medas Self-service.
Disabled passengers, or passengers with reduced mobility are welcomed at Lanzarote Airport, as all terminals and facilities are adapted for their needs. There are lifts to the upper levels of Terminal 1, and all pavements have ramps for easier wheelchair access. Adequate toilet facilities are available throughout the terminals, and special parking spaces are reserved for easy access to the entrances of the buildings. Passengers on Lanzarote Airport departure flights can also request additional assistance from their airline company, or from staff at the airport. Special attention will be given to their needs, and help will be provided with all departure procedures.
The main airline companies offering departure flights from Lanzarote Airport include Ryanair, Thomas Cook Airlines, Thomson Airways, Binter Canarias and Naysa, Air Europa, Spanair, Vueling, Condor, Air Berlin and Aer Lingus. Many flights are offered to the other six Canary Islands, and flights to Madrid, Barcelona and Valencia on the Spanish mainland are also common. Other destinations from Lanzarote Airport include Belfast-International, London-Stansted, Manchester, Dublin, Frankfurt, Munich, Bilbao, Amsterdam, Vienna and Zurich.
Lanzarote Airport is operated by Aena, the world's leading airport authority, therefore all departure facilities at the airport are of top-quality standards.
Was your flight delayed or cancelled?
You may be eligible to receive up to 600 EUR compensation per person in your party..
Claim Now!
Beat the Queues
Don't stand sweating for 45 mins waiting for Security. Get a fast track and get through in 5 mins or less.
Book now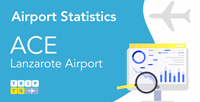 Unprecedented Growth in Q3 2023 at Lanzarote Airport: A Noteworthy 5.48% Increase in Passenger Traffic Compared to Q3 2021's Remarkable 93.23% Rise