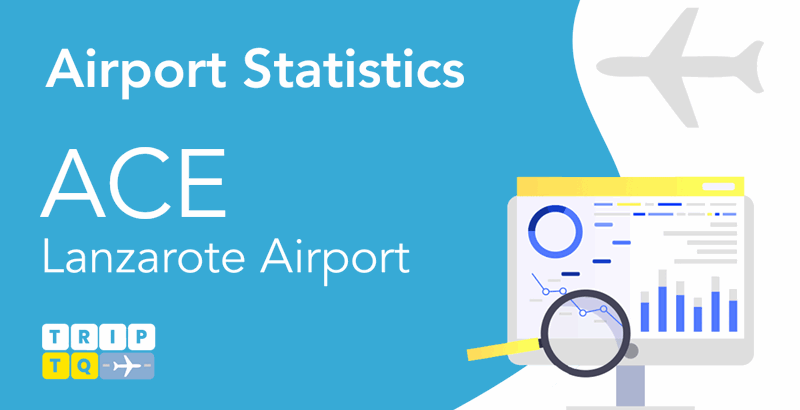 13% Surge in Passenger Numbers in July at Lanzarote Airport
Lanzarote Airport has witnessed a notable surge in passenger numbers, with July 2023 experiencing a remarkable 13.30% increase compared to the same pre-pandemic month in 2019. In July 2019, the airport recorded 649,112 passengers; in July 2023, this number rose significantly to 735,477.
The ongoing recovery in passenger numbers after the impact of the global pandemic has been a significant contributing factor to this surge. The effects were noticeable in the decline of passenger numbers from 2020. However, with travel restrictions easing and vaccinations becoming more widespread, the airport has experienced a reinvigorated interest in travel to the beautiful island of Lanzarote.
Its recent record-breaking surge in passenger numbers during July 2023 reflects the island's growing popularity and appeal as a premier tourist destination. The combined effects of the ongoing recovery from the pandemic, increased tourism, economic growth, infrastructures, and attractive events and attractions have all played a significant role in this remarkable increase in passengers visiting Lanzarote.
The airport benefits from its convenient location and accessibility, and serves as a hub connecting numerous major European cities with direct flights. This ease of access makes Lanzarote a desirable destination for getaways and vacations, attracting leisure travelers seeking a quick escape or a more extended stay.
Over the past few years, Lanzarote Airport, including the island, has undergone extensive infrastructure development and expansion. This includes improvements to passenger terminals, ground and sea transport options, and upgrades to security systems, among others. These enhancements have improved the overall visitor experience and increased the airport's appeal to travelers.
Lanzarote has an extensive array of accommodation options for every traveler, from luxury resorts that offer unrivaled elegance to charming boutique hotels and wallet-friendly choices that make exploring this stunning destination affordable. This range of lodging options not only adds to the allure of Lanzarote but also ensures that it is accessible to all visitors.
The island's natural beauty is a major draw for visitors. From the stunning parks with its volcanic landscapes to the picturesque beaches, the island offers numerous outdoor activities like hiking, surfing, and diving. These attractions and the chance to engage in thrilling experiences contribute to the increased interest in Lanzarote.
It also boasts a rich cultural heritage, evident in its historical sites such as Teguise, the former capital, and the César Manrique Foundation (Fundación César Manrique), showcasing the works of the renowned local artist. The island's strong emphasis on preserving its cultural identity and traditions provides an enriching experience for visitors seeking a blend of history, art, and local culture.
The island's culinary scene has experienced a revival, featuring a diverse range of traditional Canarian dishes and international cuisine. Lanzarote's fresh seafood, locally produced wines, and unique volcanic cooking methods are highlights for food enthusiasts. The growing recognition of Lanzarote as a foodie destination has contributed to an increase in visitors wanting to explore its gastronomic offerings.
Lanzarote has consistently maintained a reputation for promoting sustainable tourism practices. It is known for its commitment to environmental conservation and preserving its unique ecosystem. It is also widely considered one of Spain's safest and most secure travel destinations. The island's low crime rates and efficient emergency services assure travelers concerned about their well-being during their visit. This reputation may have also contributed to the overall appeal and increased numbers of tourists choosing Lanzarote as their vacation destination.
UNBEATABLE VALUE CAR RENTAL

FREE
Amendments,
FREE
Cancellations,
NO
card fees!

airport_shuttle Need Airport Transfers?
Useful Information about Lanzarote Airport