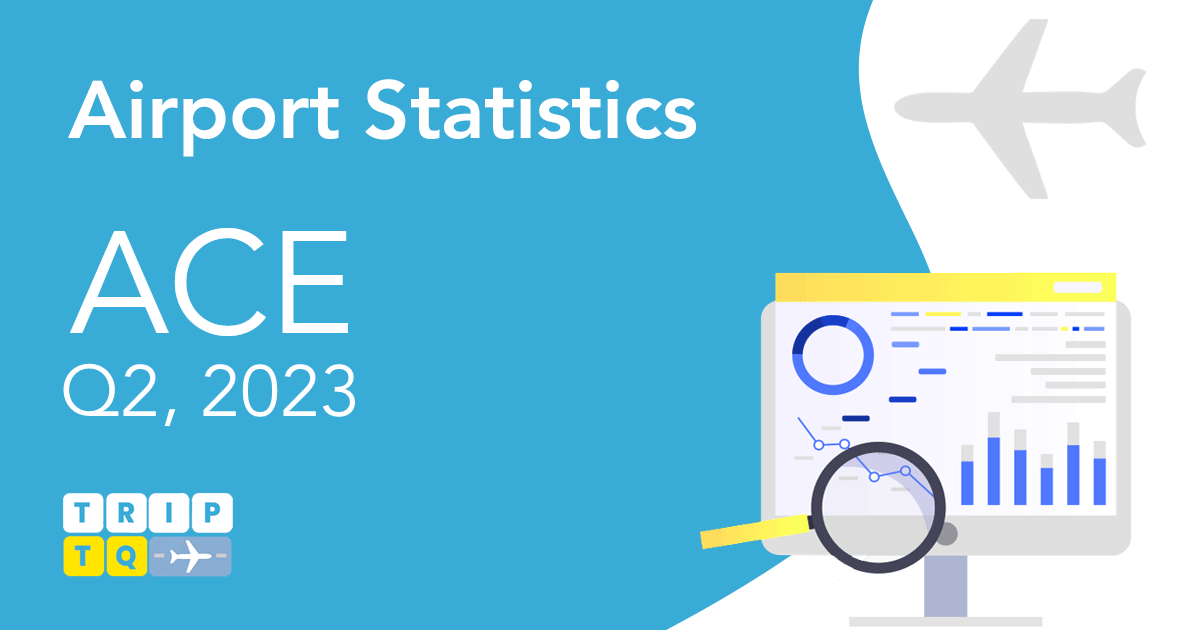 Lanzarote Airport Reports Steady Recovery in Passenger Numbers for Q2 2023
Lanzarote Airport (ACE) has witnessed a remarkable rebound in passenger numbers during the second quarter of 2023, showcasing a steady recovery from the challenges faced in the previous years. Let's delve into the statistics and explore the key highlights.
Passenger Statistics for Q2 2023: A Positive Growth Trend
In Q2 2023, Lanzarote Airport welcomed a total of 1,995,372 passengers, representing a modest increase of 8.92% compared to the same quarter of the previous year. This growth is particularly significant considering the impact of the COVID-19 pandemic on the aviation industry.
Comparing Q2 2023 to the Same Quarter in the Previous 4 Years
Q2 2019: Lanzarote Airport recorded 1,800,995 passengers, indicating a slight increase in Q2 2023 by 10.77%.
Q2 2020: Due to the global pandemic, the number of passengers plummeted to 52,396, marking a staggering decrease of 97.09% compared to Q2 2019.
Q2 2021: As travel restrictions eased, Lanzarote Airport experienced a remarkable recovery, with 453,337 passengers, showcasing a substantial increase of 765.21% compared to Q2 2020.
Q2 2022: The positive trend continued, with 1,831,965 passengers, representing a growth of 304.11% compared to Q2 2021.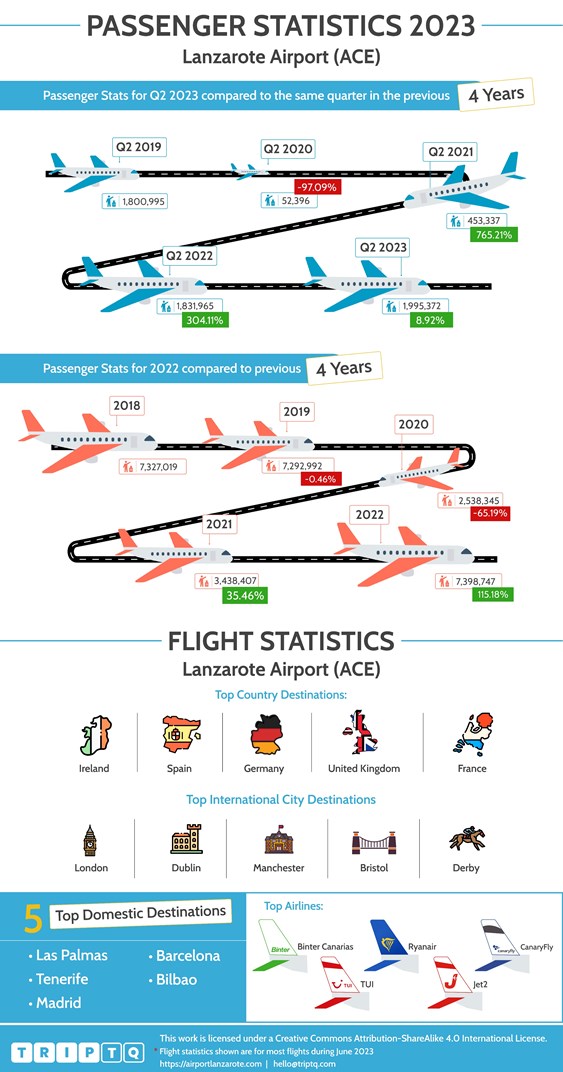 This work is licensed under a
Creative Commons Attribution 4.0 International License
.
View Full Size
Passenger Statistics for 2022: A Strong Rebound
Looking at the overall passenger statistics for 2022, Lanzarote Airport witnessed a remarkable rebound, surpassing the numbers from the previous years.
2018: The airport served 7,327,019 passengers.
2019: Despite a slight decrease of 0.46%, Lanzarote Airport handled 7,292,992 passengers.
2020: The global pandemic had a significant impact, resulting in a sharp decline of 65.19% with only 2,538,345 passengers.
2021: As travel restrictions eased, the airport experienced a notable recovery, with 3,438,407 passengers, marking a growth of 35.46% compared to 2020.
2022: Lanzarote Airport witnessed an impressive surge in passenger numbers, serving 7,398,747 passengers, representing a remarkable growth of 115.18% compared to the previous year.
Lanzarote Airport Flight Statistics: Top Destinations and Airlines
Top Country Destinations: Spain, United Kingdom, Ireland, Germany, France.
Top International Destinations: London, Dublin, Manchester, Bristol, Derby.
Top Domestic Destinations: Las Palmas, Tenerife, Madrid, Barcelona, Bilbao.
Top Airlines: Binter Canarias, Ryanair, CanaryFly, Jet2, TUI.
These flight statistics represent the most popular destinations and airlines during June 2023, showcasing the diverse range of options available to travelers at Lanzarote Airport.
Lanzarote Airport has demonstrated a steady recovery in passenger numbers during Q2 2023, with a positive growth trend compared to the previous years. The airport's resilience and the easing of travel restrictions have contributed to this remarkable rebound. With a wide range of destinations and airlines to choose from, Lanzarote Airport continues to be a popular choice for travelers.
Are you a travel publisher and would like this information for your site/blog/publication?
Contact us on this form to request Lanzarote Airport Statistics (Statistics, data and infographics are available for a wide range of airports worldwide - please tell us your requirements using the form)
UNBEATABLE VALUE CAR RENTAL

FREE
Amendments,
FREE
Cancellations,
NO
card fees!

airport_shuttle Need Airport Transfers?
Useful Information about Lanzarote Airport