Flights, Arrivals & Departures at Lanzarote Airport
Origin
Airline
Flight no.
Scheduled
Est./Actual
Status
Las Palmas (LPA)
Binter Canarias
NT500
07:45
Scheduled
Las Palmas (LPA)
CanaryFly
PM703 expand_more(1)
07:45
Scheduled
Las Palmas (LPA)
Air Europa
UX2145
07:45
Scheduled
Madrid (MAD)
Ryanair
FR2015
08:00
Scheduled
Barcelona (BCN)
Vueling
VY2472 expand_more(2)
08:15
Scheduled
Barcelona (BCN)
Iberia
IB5163
08:15
Scheduled
Barcelona (BCN)
Qatar Airways
QR3720
08:15
Scheduled
Sevilla (SVQ)
Vueling
VY3158 expand_more(1)
08:20
Scheduled
Sevilla (SVQ)
Iberia
IB5263
08:20
Scheduled
Oviedo Aviles (OVD)
Volotea
V73550
08:30
Scheduled
Tenerife (TFN)
Binter Canarias
NT458
09:10
Scheduled
Luxembourg (LUX)
Luxair
LG741
09:20
Scheduled
Paris (ORY)
Vueling
VY8187 expand_more(1)
09:30
Scheduled
Paris (ORY)
Iberia
IB5890
09:30
Scheduled
Cork (ORK)
Ryanair
FR7725
09:35
Scheduled
Hanover (HAJ)
TUI fly
X32188
09:45
Scheduled
Manchester (MAN)
Ryanair
FR2131
09:50
Scheduled
Cardiff (CWL)
TUI
BY6706
09:55
Scheduled
Tenerife (TFN)
Binter Canarias
NT494
10:05
Scheduled
Derby (EMA)
TUI
BY7718
10:15
Scheduled
Las Palmas (LPA)
Binter Canarias
NT590
10:15
Scheduled
Las Palmas (LPA)
CanaryFly
PM727 expand_more(1)
10:15
Scheduled
Las Palmas (LPA)
Air Europa
UX2113
10:15
Scheduled
London (LGW)
easyJet
U28121
10:20
Scheduled
London (STN)
Jet2
LS1401
10:25
Scheduled
Glasgow (GLA)
TUI
BY1788
10:30
Scheduled
Birmingham (BHX)
Jet2
LS1201
10:40
Scheduled
Luton (LTN)
Ryanair
FR3511
10:45
Scheduled
Tenerife (TFN)
Binter Canarias
NT468
10:50
Scheduled
Prestwick (PIK)
Ryanair
FR6153
10:55
Scheduled
Derby (EMA)
Jet2
LS631
11:00
Scheduled
Zurich (ZRH)
Edelweiss Air
WK228 expand_more(1)
11:20
Scheduled
Zurich (ZRH)
Swiss
LX8228
11:20
Scheduled
Las Palmas (LPA)
Binter Canarias
NT510
11:30
Scheduled
Manchester (MAN)
TUI
BY2754
11:30
Scheduled
Manchester (MAN)
easyJet
U22029
11:35
Scheduled
Luton (LTN)
TUI
BY5724
11:45
Scheduled
Dublin (DUB)
Aer Lingus
EI776
11:50
Scheduled
Tenerife (TFS)
Binter Canarias
NT783
12:05
Scheduled
Santa Cruz De La Palma (SPC)
Binter Canarias
NT704
12:30
Scheduled
Rotterdam (RTM)
TUI Airlines Netherlands
OR1591
12:30
Scheduled
London (STN)
Ryanair
FR250
12:35
Scheduled
Las Palmas (LPA)
Binter Canarias
NT516
12:45
Scheduled
Las Palmas (LPA)
CanaryFly
PM729 expand_more(1)
12:45
Scheduled
Las Palmas (LPA)
Air Europa
UX2135
12:45
Scheduled
Tenerife (TFN)
Binter Canarias
NT496
12:45
Scheduled
Madrid (MAD)
Iberia Express
IB3856 expand_more(5)
13:10
Scheduled
Madrid (MAD)
American Airlines
AA8736
13:10
Scheduled
Madrid (MAD)
British Airways
BA7226
13:10
Scheduled
Madrid (MAD)
Cathay Pacific
CX1865
13:10
Scheduled
Madrid (MAD)
Qatar Airways
QR6561
13:10
Scheduled
Madrid (MAD)
Vueling
VY5431
13:10
Scheduled
Alicante (ALC)
Ryanair
FR4697
13:15
Scheduled
Zaragoza (ZAZ)
Vueling
VY2961
13:20
Scheduled
Tenerife (TFN)
Binter Canarias
NT454
13:30
Scheduled
Las Palmas (LPA)
Binter Canarias
NT514
14:00
Scheduled
Malaga (AGP)
Ryanair
FR6770
14:40
Scheduled
Tenerife (TFN)
Binter Canarias
NT466
14:40
Scheduled
Madrid (MAD)
Air Europa
UX9073 expand_more(5)
14:45
Scheduled
Madrid (MAD)
Aeromexico
AM6836
14:45
Scheduled
Madrid (MAD)
Air France
AF4832
14:45
Scheduled
Madrid (MAD)
Delta Air Lines
DL6772
14:45
Scheduled
Madrid (MAD)
Etihad Airways
EY7581
14:45
Scheduled
Madrid (MAD)
KLM
KL3324
14:45
Scheduled
Tenerife (TFN)
Binter Canarias
NT470
14:50
Scheduled
Tenerife (TFN)
CanaryFly
PM546 expand_more(1)
14:55
Scheduled
Tenerife (TFN)
Air Europa
UX2161
14:55
Scheduled
Las Palmas (LPA)
Binter Canarias
NT518 expand_more(1)
15:15
Scheduled
Las Palmas (LPA)
Iberia
IB106
15:15
Scheduled
Las Palmas (LPA)
CanaryFly
PM731 expand_more(1)
15:15
Scheduled
Las Palmas (LPA)
Air Europa
UX2131
15:15
Scheduled
Santiago De Compostela (SCQ)
Vueling
VY3137 expand_more(1)
15:30
Scheduled
Santiago De Compostela (SCQ)
Iberia
IB5250
15:30
Scheduled
Tenerife (TFN)
Binter Canarias
NT472
16:00
Scheduled
Frankfurt (FRA)
TUI fly
X32186
16:10
Scheduled
Las Palmas (LPA)
CanaryFly
PM733 expand_more(1)
16:15
Scheduled
Las Palmas (LPA)
Air Europa
UX2149
16:15
Scheduled
Dusseldorf (DUS)
TUI fly
X32292
16:20
Scheduled
Frankfurt (FRA)
Discover Airlines
4Y308 expand_more(1)
16:25
Scheduled
Frankfurt (FRA)
Lufthansa
LH4382
16:25
Scheduled
Las Palmas (LPA)
Binter Canarias
NT522 expand_more(1)
16:35
Scheduled
Las Palmas (LPA)
Iberia
IB126
16:35
Scheduled
Bristol (BRS)
Ryanair
FR4755
16:45
Scheduled
Munich (MUC)
TUI fly
X32844
16:55
Scheduled
Cologne (CGN)
Corendon Airlines Europe
XR1073
17:05
Scheduled
London (STN)
Ryanair
FR8284
17:05
Scheduled
Dublin (DUB)
Ryanair
FR5910
17:15
Scheduled
Stuttgart (STR)
TUI fly
X32254
17:20
Scheduled
Las Palmas (LPA)
Binter Canarias
NT526
17:30
Scheduled
Tenerife (TFN)
Binter Canarias
NT474 expand_more(1)
17:40
Scheduled
Tenerife (TFN)
Iberia
IB84
17:40
Scheduled
Amsterdam (AMS)
TUI
OR1585
17:45
Scheduled
Las Palmas (LPA)
Binter Canarias
NT524
17:45
Scheduled
Turin (TRN)
Ryanair
FR881
17:50
Scheduled
Bristol (BRS)
Jet2
LS1801
18:35
Scheduled
Leeds (LBA)
Ryanair
FR2048
18:40
Scheduled
Madrid (MAD)
Iberia
IB3854 expand_more(4)
18:45
Scheduled
Madrid (MAD)
American Airlines
AA8843
18:45
Scheduled
Madrid (MAD)
LATAM Airlines
LA1686
18:45
Scheduled
Madrid (MAD)
Qatar Airways
QR6555
18:45
Scheduled
Madrid (MAD)
Vueling
VY5429
18:45
Scheduled
Tenerife (TFN)
Binter Canarias
NT456
18:50
Scheduled
Tenerife (TFN)
CanaryFly
PM548 expand_more(1)
18:50
Scheduled
Tenerife (TFN)
Air Europa
UX2154
18:50
Scheduled
London (LGW)
British Airways
BA2732 expand_more(1)
18:55
Scheduled
London (LGW)
Iberia
IB7656
18:55
Scheduled
Edinburgh (EDI)
easyJet
U23203
19:00
Scheduled
Las Palmas (LPA)
Binter Canarias
NT530
19:00
Scheduled
Birmingham (BHX)
TUI Airways
BY7762
19:05
Scheduled
Belfast (BFS)
Jet2
LS309
19:10
Scheduled
Dublin (DUB)
Aer Lingus
EI778
19:20
Scheduled
Leeds (LBA)
Jet2
LS217
19:25
Scheduled
London (LGW)
easyJet
U28125
19:40
Scheduled
Las Palmas (LPA)
Binter Canarias
NT542
19:45
Scheduled
Bristol (BRS)
TUI Airways
BY6758
19:50
Scheduled
Madrid (MAD)
Ryanair
FR2017
19:50
Scheduled
Newcastle (NCL)
Jet2
LS545
20:00
Scheduled
Glasgow (GLA)
Jet2
LS167
20:10
Scheduled
Tenerife (TFN)
Binter Canarias
NT484 expand_more(1)
20:10
Scheduled
Tenerife (TFN)
Iberia
IB109
20:10
Scheduled
Las Palmas (LPA)
CanaryFly
PM783 expand_more(1)
20:15
Scheduled
Las Palmas (LPA)
Air Europa
UX2133
20:15
Scheduled
Tenerife (TFS)
Binter Canarias
NT785
20:15
Scheduled
Edinburgh (EDI)
Jet2
LS705
20:20
Scheduled
Las Palmas (LPA)
Binter Canarias
NT536 expand_more(1)
20:25
Scheduled
Las Palmas (LPA)
Iberia
IB111
20:25
Scheduled
London (LGW)
TUI Airways
BY4766
20:30
Scheduled
Manchester (MAN)
Jet2
LS891
20:55
Scheduled
Manchester (MAN)
Jet2
LS763
21:10
Scheduled
Las Palmas (LPA)
Binter Canarias
NT534
21:25
Scheduled
Tenerife (TFN)
Binter Canarias
NT486
21:30
Scheduled
Exeter (EXT)
TUI Airways
BY6700
21:35
Scheduled
Las Palmas (LPA)
CanaryFly
PM785 expand_more(1)
21:45
Scheduled
Las Palmas (LPA)
Air Europa
UX2150
21:45
Scheduled
Dublin (DUB)
Ryanair
FR7124
22:50
Scheduled
Tenerife (TFN)
Binter Canarias
NT488 expand_more(1)
22:50
Scheduled
Tenerife (TFN)
Iberia
IB104
22:50
Scheduled
Las Palmas (LPA)
Binter Canarias
NT538
23:00
Scheduled
Sevilla (SVQ)
Ryanair
FR1293
23:25
Scheduled
Madrid (MAD)
Iberia
IB3858
23:30
Scheduled
Barcelona (BCN)
Vueling
VY2474 expand_more(2)
23:35
Scheduled
Barcelona (BCN)
Iberia
IB5165
23:35
Scheduled
Barcelona (BCN)
Qatar Airways
QR5515
23:35
Scheduled
Destination
Airline
Flight no.
Scheduled
Est./Actual
Status
Gran Canaria (LPA)
Binter Canarias
NT503
07:00
Scheduled
Madrid (MAD)
Iberia Express
IB3859 expand_more(4)
07:00
Scheduled
Madrid (MAD)
American Airlines
AA8602
07:00
Scheduled
Madrid (MAD)
Cathay Pacific
CX1822
07:00
Scheduled
Madrid (MAD)
Qatar Airways
QR7249
07:00
Scheduled
Madrid (MAD)
Vueling
VY5434
07:00
Scheduled
Tenerife (TFN)
Binter Canarias
NT451 expand_more(1)
07:00
Scheduled
Tenerife (TFN)
Iberia
IB125
07:00
Scheduled
Zaragoza (ZAZ)
Vueling
VY2960
07:00
Scheduled
Alicante (ALC)
Ryanair
FR4696
07:30
Scheduled
Gran Canaria (LPA)
Binter Canarias
NT501 expand_more(1)
08:15
Scheduled
Gran Canaria (LPA)
Iberia
IB93
08:15
Scheduled
Gran Canaria (LPA)
CanaryFly
PM704 expand_more(1)
08:15
Scheduled
Gran Canaria (LPA)
Air Europa
UX2146
08:15
Scheduled
Madrid (MAD)
Ryanair
FR2016
08:35
Scheduled
Seville (SVQ)
Vueling
VY3159 expand_more(1)
08:55
Scheduled
Seville (SVQ)
Iberia
IB5264
08:55
Scheduled
Barcelona (BCN)
Vueling
VY2473 expand_more(3)
09:00
Scheduled
Barcelona (BCN)
Iberia
IB5164
09:00
Scheduled
Barcelona (BCN)
LATAM Airlines
LA5741
09:00
Scheduled
Barcelona (BCN)
Qatar Airways
QR3501
09:00
Scheduled
Asturias (OVD)
Volotea
V73551
09:00
Scheduled
Turin (TRN)
Ryanair
FR882
09:25
Scheduled
Tenerife (TFS)
Binter Canarias
NT782
09:40
Scheduled
Luxembourg (LUX)
Luxair
LG742
10:10
Scheduled
Paris (ORY)
Vueling
VY8188 expand_more(1)
10:15
Scheduled
Paris (ORY)
Iberia
IB5891
10:15
Scheduled
Cork (ORK)
Ryanair
FR7726
10:20
Scheduled
Manchester (MAN)
Ryanair
FR2132
10:25
Scheduled
Tenerife (TFN)
Binter Canarias
NT491
10:35
Scheduled
Gran Canaria (LPA)
Binter Canarias
NT591
10:45
Scheduled
Gran Canaria (LPA)
CanaryFly
PM728 expand_more(1)
10:45
Scheduled
Gran Canaria (LPA)
Air Europa
UX2112
10:45
Scheduled
Hannover (HAJ)
TUI
X32189
10:45
Scheduled
Cardiff (CWL)
TUI
BY6707
11:00
Scheduled
London (LGW)
easyJet
U28122
11:10
Scheduled
Nottingham (EMA)
TUI Airways
BY7719
11:15
Scheduled
London (LTN)
Ryanair
FR3512
11:20
Scheduled
Tenerife (TFN)
Binter Canarias
NT469 expand_more(1)
11:20
Scheduled
Tenerife (TFN)
Iberia
IB117
11:20
Scheduled
London (STN)
Jet2
LS1402
11:25
Scheduled
Prestwick (PIK)
Ryanair
FR6154
11:30
Scheduled
Birmingham (BHX)
Jet2
LS1202
11:40
Scheduled
Glasgow (GLA)
TUI Airways
BY1789
11:50
Scheduled
Gran Canaria (LPA)
Binter Canarias
NT513
12:00
Scheduled
Zurich (ZRH)
Edelweiss Air
WK229 expand_more(1)
12:10
Scheduled
Zurich (ZRH)
Swiss
LX8229
12:10
Scheduled
Manchester (MAN)
easyJet
U22030
12:15
Scheduled
Nottingham (EMA)
Jet2
LS632
12:30
Scheduled
Tenerife (TFN)
Binter Canarias
NT465
12:30
Scheduled
Dublin (DUB)
Aer Lingus
EI777
12:40
Scheduled
London (LTN)
TUI Airways
BY5725
12:45
Scheduled
Manchester (MAN)
TUI Airways
BY2755
12:50
Scheduled
La Palma (SPC)
Binter Canarias
NT705
13:00
Scheduled
Fuerteventura (FUE)
TUI Airlines Netherlands
OR1591
13:05
Scheduled
Tenerife (TFN)
Binter Canarias
NT497
13:10
Scheduled
Gran Canaria (LPA)
Binter Canarias
NT517 expand_more(1)
13:15
Scheduled
Gran Canaria (LPA)
Iberia
IB112
13:15
Scheduled
Gran Canaria (LPA)
CanaryFly
PM730 expand_more(1)
13:15
Scheduled
Gran Canaria (LPA)
Air Europa
UX2132
13:15
Scheduled
London (STN)
Ryanair
FR251
13:20
Scheduled
Barcelona (BCN)
Vueling
VY2475 expand_more(1)
13:55
Scheduled
Barcelona (BCN)
Iberia
IB5166
13:55
Scheduled
Madrid (MAD)
Iberia
IB3857 expand_more(4)
13:55
Scheduled
Madrid (MAD)
British Airways
BA7225
13:55
Scheduled
Madrid (MAD)
LATAM Airlines
LA1688
13:55
Scheduled
Madrid (MAD)
Qatar Airways
QR6554
13:55
Scheduled
Madrid (MAD)
Vueling
VY5432
13:55
Scheduled
Tenerife (TFN)
Binter Canarias
NT455
14:00
Scheduled
Dublin (DUB)
Ryanair
FR7125
14:05
Scheduled
Gran Canaria (LPA)
Binter Canarias
NT511
14:30
Scheduled
Malaga (AGP)
Ryanair
FR6771
15:15
Scheduled
Gran Canaria (LPA)
Binter Canarias
NT515
15:15
Scheduled
Tenerife (TFN)
Binter Canarias
NT471
15:20
Scheduled
Tenerife (TFN)
CanaryFly
PM547 expand_more(1)
15:25
Scheduled
Tenerife (TFN)
Air Europa
UX2162
15:25
Scheduled
Madrid (MAD)
Air Europa
UX9076 expand_more(5)
15:35
Scheduled
Madrid (MAD)
Aeromexico
AM6823
15:35
Scheduled
Madrid (MAD)
Air France
AF4837
15:35
Scheduled
Madrid (MAD)
Delta Air Lines
DL6773
15:35
Scheduled
Madrid (MAD)
Etihad Airways
EY7580
15:35
Scheduled
Madrid (MAD)
KLM
KL3379
15:35
Scheduled
Gran Canaria (LPA)
Binter Canarias
NT519
15:45
Scheduled
Gran Canaria (LPA)
CanaryFly
PM732 expand_more(1)
15:45
Scheduled
Gran Canaria (LPA)
Air Europa
UX2148
15:45
Scheduled
Santiago (SCQ)
Vueling
VY3136 expand_more(1)
16:05
Scheduled
Santiago (SCQ)
Iberia
IB5249
16:05
Scheduled
Tenerife (TFN)
Binter Canarias
NT477
16:40
Scheduled
Tenerife (TFN)
CanaryFly
PM549 expand_more(1)
16:45
Scheduled
Tenerife (TFN)
Air Europa
UX2151
16:45
Scheduled
Gran Canaria (LPA)
Binter Canarias
NT523 expand_more(1)
17:00
Scheduled
Gran Canaria (LPA)
Iberia
IB613
17:00
Scheduled
Frankfurt (FRA)
TUI fly
X32187
17:10
Scheduled
Frankfurt (FRA)
Discover Airlines
4Y309 expand_more(1)
17:15
Scheduled
Frankfurt (FRA)
Lufthansa
LH4383
17:15
Scheduled
Bristol (BRS)
Ryanair
FR4756
17:20
Scheduled
Dusseldorf (DUS)
TUI fly
X32293
17:20
Scheduled
Cologne (CGN)
Corendon Airlines Europe
XR1074
17:45
Scheduled
Munich (MUC)
TUI fly
X32845
17:45
Scheduled
Dublin (DUB)
Ryanair
FR5911
17:50
Scheduled
Tenerife (TFS)
Binter Canarias
NT784
17:55
Scheduled
London (STN)
Ryanair
FR8285
18:05
Scheduled
Tenerife (TFN)
Binter Canarias
NT475
18:10
Scheduled
Fuerteventura (FUE)
TUI Airlines Netherlands
OR1585
18:15
Scheduled
Gran Canaria (LPA)
Binter Canarias
NT525
18:15
Scheduled
Stuttgart (STR)
TUI fly
X32255
18:20
Scheduled
Seville (SVQ)
Ryanair
FR1294
18:40
Scheduled
Leeds (LBA)
Ryanair
FR2047
19:15
Scheduled
Bristol (BRS)
Jet2
LS1802
19:20
Scheduled
Tenerife (TFN)
Binter Canarias
NT457
19:20
Scheduled
Gran Canaria (LPA)
CanaryFly
PM738 expand_more(1)
19:25
Scheduled
Gran Canaria (LPA)
Air Europa
UX2137
19:25
Scheduled
Gran Canaria (LPA)
Binter Canarias
NT531
19:30
Scheduled
Madrid (MAD)
Iberia
IB3855 expand_more(1)
19:40
Scheduled
Madrid (MAD)
Vueling
VY5417
19:40
Scheduled
London (LGW)
British Airways
BA2733 expand_more(2)
19:45
Scheduled
London (LGW)
Iberia
IB7657
19:45
Scheduled
London (LGW)
Qatar Airways
QR6243
19:45
Scheduled
Edinburgh (EDI)
easyJet
U23204
19:50
Scheduled
Belfast (BFS)
Jet2
LS310
20:00
Scheduled
Birmingham (BHX)
TUI Airways
BY7763
20:05
Scheduled
Leeds (LBA)
Jet2
LS218
20:25
Scheduled
Gran Canaria (LPA)
Binter Canarias
NT529
20:25
Scheduled
London (LGW)
easyJet
U28126
20:25
Scheduled
Dublin (DUB)
Aer Lingus
EI779
20:30
Scheduled
Tenerife (TFN)
Binter Canarias
NT485
20:40
Scheduled
Gran Canaria (LPA)
Binter Canarias
NT535
20:45
Scheduled
Gran Canaria (LPA)
CanaryFly
PM784 expand_more(1)
20:45
Scheduled
Gran Canaria (LPA)
Air Europa
UX2136
20:45
Scheduled
Bristol (BRS)
TUI Airways
BY6759
20:50
Scheduled
Newcastle (NCL)
Jet2
LS546
20:50
Scheduled
Glasgow (GLA)
Jet2
LS168
21:00
Scheduled
Edinburgh (EDI)
Jet2
LS706
21:05
Scheduled
Madrid (MAD)
Ryanair
FR2018
21:10
Scheduled
London (LGW)
TUI Airways
BY4767
21:30
Scheduled
Gran Canaria (LPA)
Binter Canarias
NT537
21:50
Scheduled
Tenerife (TFN)
Binter Canarias
NT487
21:55
Scheduled
Tenerife (TFN)
Binter Canarias
NT489
22:00
Scheduled
Manchester (MAN)
Jet2
LS764
22:10
Scheduled
Gran Canaria (LPA)
CanaryFly
PM786 expand_more(1)
22:15
Scheduled
Gran Canaria (LPA)
Air Europa
UX2138
22:15
Scheduled
Exeter (EXT)
TUI Airways
BY6701
22:35
Scheduled
Manchester (MAN)
Jet2
LS892
22:40
Scheduled
Flying To and From Lanzarote Airport
This page provides information about the destinations that can be reached via Lanzarote Airport.
Was your flight delayed or cancelled?
You may be eligible to receive up to 600 EUR compensation per person in your party..
Claim Now!
Beat the Queues
Don't stand sweating for 45 mins waiting for Security. Get a fast track and get through in 5 mins or less.
Book now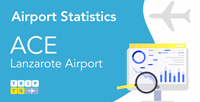 Lanzarote Airport has witnessed a notable surge in passenger numbers, with July 2023 experiencing a remarkable 13.30% increase compared to the same pre-pandemic month in 2019...